You Can
LIVE & LOVE

Beyond Your Dreams!
Download FREE Book Chapters from my two #1 Bestselling Books on Amazon; "LOVE Beyond Your Dreams" & "LIVE Beyond Your Dreams" available in paperback, Kindle and nook and in the Barnes & Nobles stores.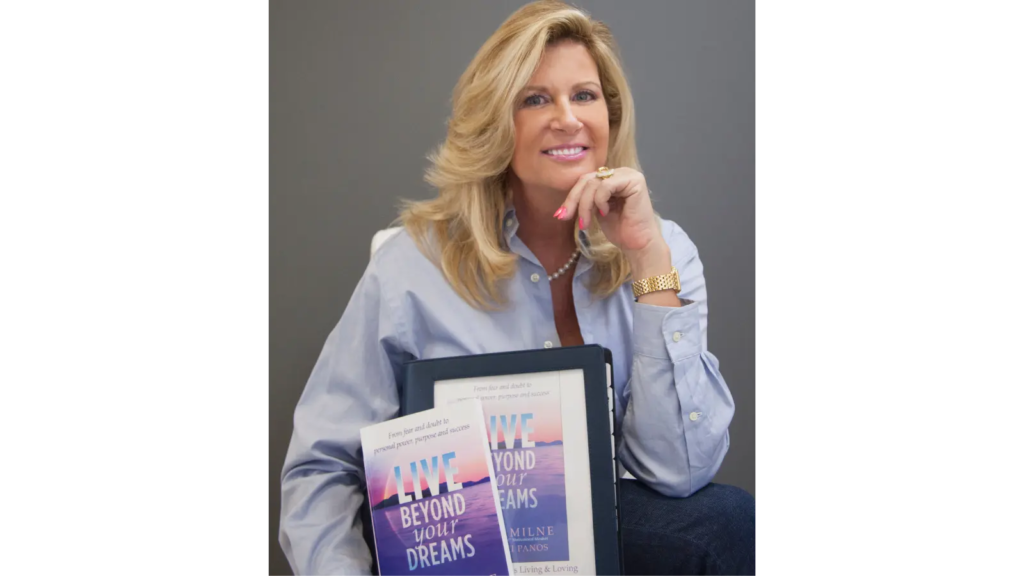 LIVE Beyond Your Dreams & LOVE Beyond Your Dreams are sister books, written to go together.
Both books are rated 5-stars and sold in the Barnes & Noble stores. You can also find both books on Amazon – Kindle and BN – nook eReaders; and on many online book stores. These books are important assets to all my Coaching clients, yet available to the public. Please leave your 5-star rating after reading the books as well. Do get your FREE Book chapter downloads below! Enjoy….I hope you find them helpful. XO Riana
"LOVE Beyond Your Dreams" is a research-based relationship book like no other. If you're experiencing post-traumatic shock from another lie or cheating lover, your partner has left you for another, you're questioning whether to stay or go, or you just want to get love right the next time, learn the warning signs of risky personality types to leave behind. Know the personal changes you need to heal, regain your self-esteem, reinvent yourself and have the most satisfying levels of human love.
Part 1: How to Spot an Emotional Manipulator or Toxic Personality Type
Part 2: How to Stop the Cycle of Dysfunctional, Abusive Relationships
Part 3: How to Save & Reinvent Yourself and get on a Path to Healing and Personal Transformation
Part 4: How to Have a Healthy, Loving, Evolved and Conscious Relationship
#1 Amazon BESTSELLER & Rated 5 Stars! ⭐⭐⭐⭐⭐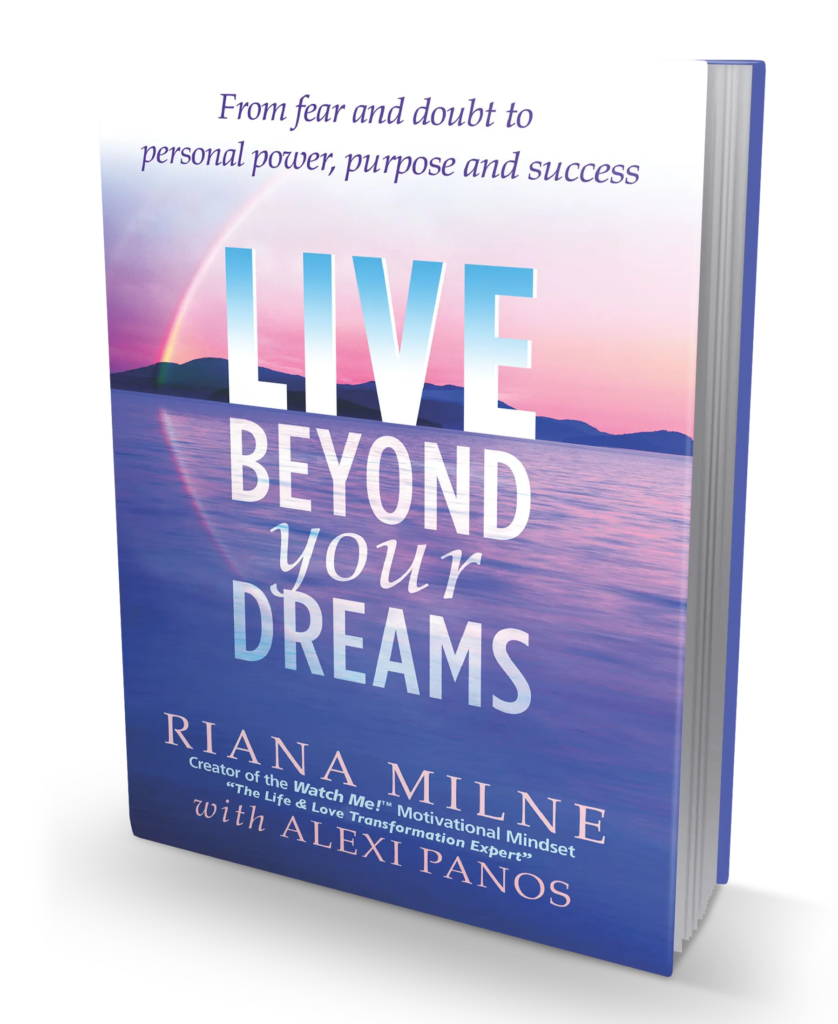 In "LIVE Beyond Your Dreams", I show you how to transform fear and doubt into personal power, purpose, and success. In this book, I introduce the Watch Me!™ Motivational Mindset for Success, a transformational approach to self-understanding, inspiration, and personal fulfillment. This will help you achieve emotional healing, increased confidence and self-esteem, personal growth, and empowerment. You'll prove to yourself that you are more than good enough and can Create the Life You Desire & Have the Love You Deserve!
You'll discover:
A Breakthrough Approach to Easing Stress, Anxiety, and Depression
Positive Self Talk for Better Performance, Moods and a Healthier Mindset
A Sensible, Step-by-step Process for Setting and Accomplishing Goals
Empowering Techniques for Achieving Balance in all your Life and Work areas
The Essential Role of Spirituality in Attaining Personal Peace and a Higher Purpose in Life
Highly Rated Amazon Bestseller & Rated 5 Stars⭐⭐⭐⭐⭐
See What Others Have Had To Say About These Books!
Quite frankly, this is the kind of book that should be given to every young girl/young woman before she starts dating. As I read the book, I thought to myself, "these are the kinds of things no one ever tells you but that you need to know". She boils down the findings of very extensive research into plain English so that you can focus on understanding the message. The book is very much a guide that should be referred to, especially if you are single and active in the dating world.
LOVE Beyond Your Dreams […] is one of the few books that makes you feel like the story happened in your presence. It helps you discover the type of toxic people that could break your heart, the exact questions to ask while dating – which will tell you if they are a keeper! Learn the exact things that make up a great, loving relationship! It's all here – it's an easy-to-read guide to Love. A must read for everybody and I highly recommend it. Intelligently written with lots of real life lessons
Riana explains specific destructive personality traits that you are able to identify sooner than later. This book helps you find who and what type of person you are looking for and guides you through situations and stories of real life people through her coaching experience and maybe similar to your own. It gives you hope that genuine people do exist and the person you are will have the attraction to those people in return. Thank you! A Must Read – For Men or Women!
Having personally worked with Riana as my Coach, I know she is passionate about the 'Watch Me' approach to life. And it has worked for her in many situations. In this book, as well as when speaking with Riana, she is very motivating. She opened my eyes and introduced me to a new way of thinking, of being mindful, of applying purpose and spiritually to my life. And that helped me through a very difficult time. I have many, many highlighted pages in this book that I continue to re-read and inspire me. I definitely recommend this book…you will not be disappointed! I definitely recommend this book.
If you are annoyed by this book it's because you don't truly believe in either God, nature, or Karma. Or maybe you just get annoyed because you have done the same thing to your children. […] This is the realest book I have ever read for my own pleasure. I'm not saying you can compare it to the Bible and maybe some words or phrases can be overbearing but that's the entire point of this book. It's not to make you feel bad it's to help you love yourself and believe in yourself. I'm just saying I truly believe that people should at the very least consider living in this way. A 10/10! Best Self help book I've ever read.
Live Beyond Your Dreams is one of those books that could really set you free. You can sit down and read cover to cover, and then revisit for advice on those difficult days. There's a chapter in here for everyone. I, for example, could really do with changing the negative little voices in my head that drag me down, there's a chapter for that. I also enjoyed the chapter on spiritual importance and how useful it is for growth and healing. If you are in the mood to be happier and more successful this is the book for you!
Global Cert. Life, Dating & Relationship Coach, CCTP, LMHC, LCADC, CAP, SAC, Certified Mindfulness Coach, Educational Speaker, and #1 Bestselling Author
Hello, thanks for stopping by! My mission is to help women, men and couples of all ages overcome and heal from past childhood, dating, and relationship trauma to move on to create a life and relationship they are passionate about.
Over 22 years of research and over 28 Training Modalities are at the core of the Dating to Mating Life & Love Transformation System for Singles and the Relationship Rescue Coaching program for Couples. 
My experience with working with Healing past, Unconscious Childhood & Love Trauma includes: 
I started teaching "The Mindset for Success," System at age 22 at Gannon University to help people grow their businesses in sales, marketing and promotions. Then I opened a Model & Talent School and Agency at age 26; and found my "Mindset for Success" system helped my Models, Actors, Singers and Dancers reach their goals and dreams in the talent industry. Within one year, my School won "The IMTA International Model & Talent School of the Year Award" – after I was told by so many in Erie Pa – "This would never work." LOL
Like all the women, men, and my clients of all ages – you will gain the necessary confidence and essential skills to reach your goals and dreams in Life, Love and Business. 
We start by healing any past Unconscious Childhood Trauma and any negative, fear-based messages, create a plan for your goals and dreams, transform your unconscious thoughts and actions into full conscious awareness, teach you boundaries and life balance, and then teach you EXACTLY how to attract and keep an Emotionally Healthy, Evolved and Conscious Love Partner and Relationship.
Using a holistic, individualized, research-based and trademarked coaching approach designed to help every woman, man and couple better understand themselves both emotionally, psychologically and spiritually, the Life & Love Coaching Transformation programs were all designed to help every person globally to – Create the Life They Desire & to Have the Love They Deserve.
Ready To Get Started On YOUR

Life & Love Transformation?
Start by doing the Private 90-minute Discovery Session with Riana – NOW on Special Promotion!